And as if by magic the Wolves spring back into the black.
So, "hands up" ( thanks David) if we think that Kevin Love's ill-advised cosy up with Adrian Wojnarowski had an effect on his game last night?
Anyone? anyone? Bueller?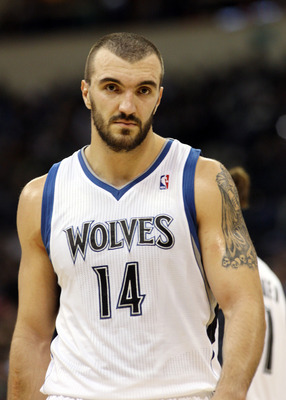 In Pek We Trust
Well, to be honest, the guy had 14 rebounds which isn't a sensation for him but would be heartily applauded were it any other player....the problem is the 3-17 shooting.....0-3 from downtown....2-4 from the foul-line....wait! rewind......only 4 free throws??.... as my fellow Scot, Sir Sean Connory, would undoubtedly say, "Surely there'sh shome mishtake?". Nope, no mistake. Kevin Love's game was a bit of an disaster last night and it couldn't have happened at the wrong time...for him at least....I mean, if you're going to come out and shout your mouth off like a marquee superstar then it's wise to play like one in the subsequent game.
Thankfully this did not deter the rest of the Timberwolves. The most undeterred of the bunch was the mighty Nikola Pekovic who roared back to form, dominated the paint and knocked Koufos, McGee and Mozgov around like they were rag dolls. McGee and Koufos both ended up in foul trouble as they tried to incapacitate the giant Montenegran....Pek just shrugged it off and rolled to a 22/11 double double....further punishing the Nuggets' bigs by going 100% from the stripe. We should not underestimate Pek and we really should not be linking his name to any trade scenarios.
Once more Andrei Kirilenko was a huge influence on both ends...especially when things became unnecessarily tight in the closing seconds...Kirilenko was the disruptive influence who pushed the game out of sight.
The Wolves dug this one out.
Latest rumors are that Rubio is being held out until Saturday. I have no idea what that is all about apart from the fact that they are hoping that he will give us a much needed boost as we head towards the perfect storm that is Miami, OKC and the Knickerbockers. There may be method in that particular brand of madness and the degree of unpredictability it gives us makes me think we could pinch one of those games....possibly...if the stars align.