Rick Adelman must be wondering what he has done to incur the wrath of the Basketball Gods.......
Had Kevin Love's "food poisoning" been tempered with a return to the starting 5 for Andrei Kirilenko then I wouldn't be so despondent....however, the back spasms haven't abated and the rangy Russian sits again tonight. I just wonder if this food poisoning diagnosis is a bit of a smoke screen to hide the fact that Love's hand is bothering him more than we imagined. Can't think of a good reason why the Wolves would want to hide the fact that he's still injured. I thought he was struggling badly against the Clips.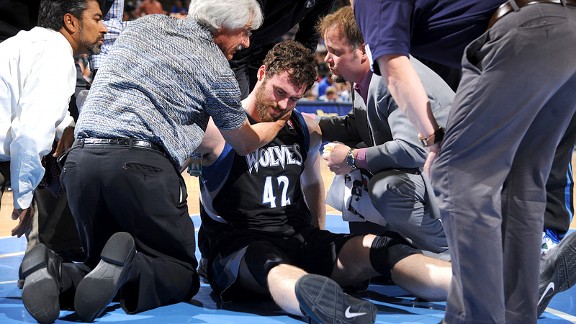 Love on the rocks?
So where does that leave us if Love doesn't feature.
Malcolm Lee
Luke Ridnour
Josh Howard
Dante Cunningham ?....throw D-Will in at the 4?
Nikola Pekovic
I have no idea....and think there may be more trouble ahead for the backcourt....Jennings and Ellis.....hmmmm
Anyway, it's a home game and who knows, there may well be a positive outcome...K Love may play....I hope so.