Fresh off the trading block, Michael Beasley looks like he's doubtful for tonight's contest with a sore big toe...picked up in the Phoenix win....it'll be a bit of an anti-climax if he doesn't play..but he'll be there, bending everyone's ear and eating Skittles, no doubt.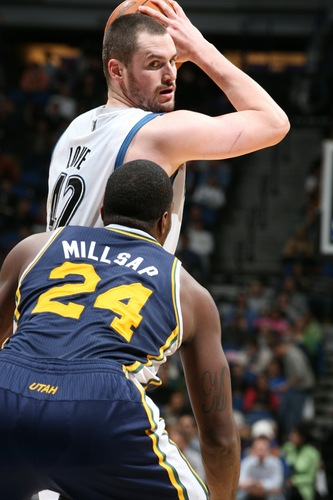 Luke Ridnour, who shot the "
drive home safely
!" game winning floater at the end of regulation in the last game against Utah, will definitely play.....I'm smiling.....can you see me smile?
The Twolves have had two days off and we're all hoping that this will have been sufficient time for K-Love to get over his back niggles. Utah are the only team to have made Love look anything less than awesome and Paul Millsap and Big Al seem to be able to do damage against he and Pek with their strength, outside shooting and quick feet.
That having been said despite
only
10 points and 10 rebounds in the last game from Kevin Love the Twolves found a way to win behind a welcome, yet surprisingly good, long range performance from JJ Barea and a strong fourth quarter from D-Will.
Utah were beaten by Phoenix last night, with the Suns racking up another 120 point performance. By all accounts it seems that Gortat found his mojo......or is it that he wasn't faced with Pek?.....and went off for 25 points.
So, what should we expect tonight?
Well, K-Love is long overdue a good game against Utah and hopefully this will be his night. As I already stated at the start of this road-trip the Twolves will need contributions from others on both ends of the floor. I would imagine that Adelman will have them stirred up seeing as this is the tie-breaker game with the Jazz and we're in such close proximity in the overall standings. Hit those open shots and block out....easy.
I'm pencilling in a "W".